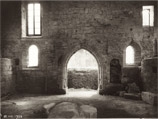 The Abbey of Montheron
Discover the history of the former Cistercian abbey of Montheron and visit the archaeological sites.
Guided tours of the Cistercian site, the chapter room of the abbey of Montheron and the present church, followed by a concert on the new organ (2007) with its chime and nightingale, and old organ (1860 Sumiswald ) of the church.
The archaeological site
Discover the world of Cistercians.
Come and discover in Montheron the story of an ancient abbey of Cistercian monks founded in 1045 and active until the reform in the sixteenth century. Approach to conventual and Cistercian architecture, as well as the withdrawal imposed by the choice of the monastic life, retired life apart from the world.
The present church
In 1782, the architect William Fraisse expanded the church to the north and built the beautiful baroque façade we see today in the north of the building. Large windows make the interior brighter.
The church in the landscape, in this valley, near the stream in the forest.
Organs of the church
Organ 2007 17 stops with two keyboards and mechanical pedal board. There are also three sets of effects: a nightingale, a cuckoo and a star rotating Christmas. In the second keyboard, there is a small mechanical chime 3 octaves, 40 small bells.
Choir organ
Origin: probably Emmenthal – perhaps Sumiswald. Date: 1860?
Factor is unknown.
Composition: Bourdon 8′, Principal 8′, Flute 4′, Superoctave 2′.
The organist
Daniel Thomas, titular organist of the Abbey of Montheron, Lausanne. He obtained in 1992 a prize in virtuosity for organ at the Conservatoire of Lausanne.
He plays organ concerts on the themes of nature, landscapes and forests, he likes to improvise and compose for his instrument.
He presents guided tours of the Cistercian site followed by small concerts on the two organs.
Guided tours on request:
Price: CHF 10.-/per person, minimum 10 people paying, up to 16 years free.
* Extra charge for organ recital:
Price: CHF 200.- for 15 min / CHF 400.- for 30 min / CHF 700.- for 60 minutes.
* Choosing a theme for concerts
You may let us surprise you, or choose a theme:
Cistercian music, with variations on Gregorian Themes, musical prayers and hymns
Medieval music, oldest written music for organ, with a program from 14th to 16th Century
Swiss music, especially music from the old Bern in 1820 on our Emmentaler organ music around 1730 from the monastery of St. Katharinental in Schaffhausen, and music from the festival Wine grower in Vevey by Gustave Doret
Bird songs, music on the theme of birds of various composers like Prokofiev, Saint-Saëns, Couperin, Grieg, …
Musical flowers, music on the theme of flowers and plants, by different composers Couperin, Schumann, …
Christmas carols from France and Switzerland, pastorals and tambourines
Other themes are possible, depending on your interest
According to the selected theme, we also use the harmonium, clavichord and piano in church.